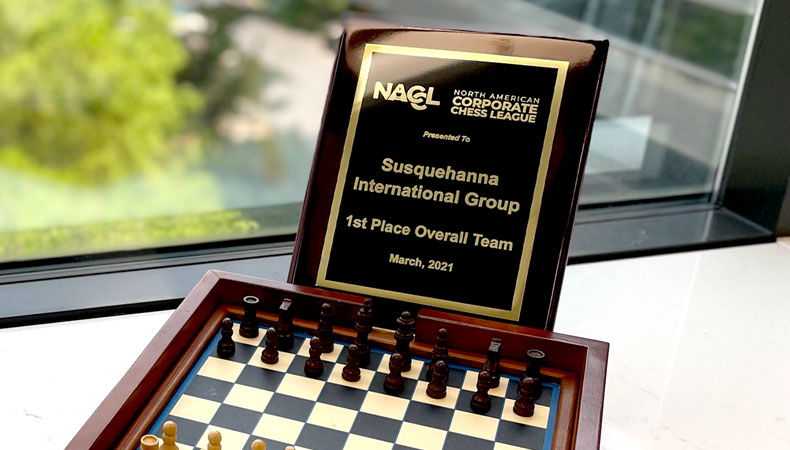 Over 6 Thursdays in late January and February, the inaugural online North American Corporate Chess League took place, with over 400 players and 40 teams competing on lichess.org. The league awarded prizes to both the top 15 individuals and the top 5 teams, with each team's score equal to the combined score of its top 4 individuals.
SIG fielded a full team of 15 chess players, and after the lead changed hands multiple times, SIG's top 4 scorers won all 8 of their games on the final day, catapulting the team to first place! In this article, we present some crucial games and tactically instructive positions of the SIG players.
SIG's top performer was Brian, who placed 3rd overall with 9 wins, 2 draws, and 1 loss, defeating two masters along the way. He won this wild game in the penultimate round against Vijaykanth from IBM:
During the twitch stream commentary on the final day of play, NACCL Director Peter Giannatos noted that SIG was the only team with all of its four highest scoring players in the top 15. Delen, John, and Justin all scored 9 wins and 3 losses. Here are some illustrative tactics from the games of the SIG players, ranging from easier to more challenging. Can you find the winning moves?
#1 (Beginner): Black just made the fatal mistake Ne7, can you find the winning combination for White?
#2 (Beginner): Black has just played e5. How does Bill win a pawn with the white pieces?
#3 (Intermediate): It's white to move, can you figure out how Delen was able to win one of the black pieces that was trapped?
#4 (Intermediate): Black just played the blunder Ne3, giving white a forced mate in 2, can you find it?
#5 (Expert): Here Black has just played the move f5, which looks strong given the threat of e4 forking white's bishop and knight, however, this opens up the black king to attack.
How did Justin win material from here?
#6 (Expert): In the following position Black has just played the move Bd7, at first glance his position looks fine, however, Eric finds a remarkable win. Do you see it?
Ultimately the league championship came right down to the wire with several teams having a shot to win. Going into the last round, SIG and Deloitte were neck and neck at the top of the standings, making the following game between Delen from SIG and Chase from Deloitte, a must win for both players' respective teams.
This win put SIG in first place with 37 points, while Wells Fargo and Deloitte were tied for second with 35.5 points, meaning Delen's victory ultimately clinched the championship. Congratulations to the SIG chess team!
(Visited 1,922 times, 1 visits today)