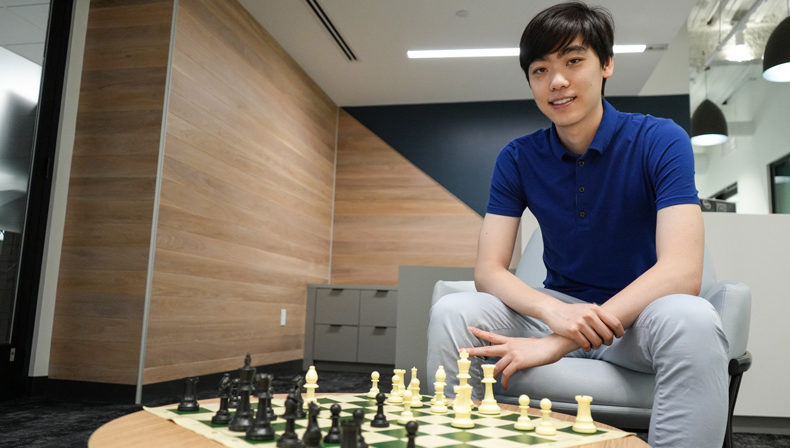 Andrew Tang is known online as "penguingm1" and is widely regarded as one of the top bullet chess players. Andrew joined SIG this summer as a Trading Intern in our Bala Cynwyd office and will be returning as a full time Quantitative Trader in our New York office after graduation.
Hi Andrew! We're so excited to have you interning with us this summer. Can you tell us a little more about you and your presence in the chess community?
Thanks, I've really been enjoying the internship so far! I'm a rising senior at Princeton University, majoring in Operations Research and Financial Engineering. I am president of the Chess Club and I've worked on the Daily Princetonian. I started playing chess when I was 4 ½ years old in IL. I moved to MN when I was 8, and that's when I really got serious about chess.
I would consider myself to be the top hyper-bullet (30 second) and ultra-bullet (15 second) player in the world. I am one of the top 5 bullet chess players, finishing 2nd place the past two years in the Chess.com Bullet Chess Championship. In high school, I started streaming and now have 55,000 followers on Twitch. I became a Twitch Partner, and I was one of the first chess players to be signed by an esports organization.
How did you first hear about SIG?
I first heard about SIG at the 2019 Pan American Intercollegiate Chess Championship. SIG had a booth there, and I knew the chess players representing SIG at the event. I didn't know much about the company until I went back to Princeton and some of my friends were getting into quant trading. A friend of mine who is a full-time SIG Quant Trader starting in NYC this fall was in the Princeton Chess Club with me. He said, this company is pretty cool, you should check them out. I did my interviews and here I am!
What drew you to trading?
I heard a lot from SIG about how trading is like a game, and I obviously really like playing games. I'm pretty competitive. It sounds kind of like the dream to try to outsmart other people to make money, and the internship sounded like a lot of fun.
Do you see any parallels in trading and chess?
There are a few angles. When it comes to chess, I'm a pretty big specialist in speed chess, so that takes a lot of split-second decision making, calculating, evaluating, and just being quick on your feet. On the more conceptual side – both take a lot of understanding of what's going on underneath the surface.
A big thing that people talk about in trading at SIG is selection bias; when other people are trading with you, there's probably a good reason. When it comes to chess, it's the same thing. When my opponent is allowing me to play some move, I may have originally thought, oh, that's a good thing. But I have to be very careful and consider why they're allowing me to make the move. Is there a reason this isn't good? A lot of my biggest regrets in chess have been blunders when I haven't considered my opponent's response.
What has surprised you about SIG's culture?
I think just how fun it is to be here. It's such a competitive industry and being at the internship is enjoyable. We get to play poker during the day. There's nothing in the day that makes me feel bored. I just didn't expect for it to feel so fun.
What's living in Philadelphia been like? Any favorite restaurants or things to do?
It's been nice to live in the city. There's a lot of good restaurants, my favorite is Double Knot. We love going to the arcade, Round 1, a lot. I also like going to the gaming café, TAP Esports. Obviously, you can see the pattern that my fellow interns and I like games.
Do you have any advice for chess players considering a similar internship path?
If you like games and you like probability, I think trading is a very natural fit. Give it a shot, there's nothing to lose.
Your handle is "Penguingm1." Do you like penguins?
I do! Back in the early 2000s, the first big chess server was called The Internet Chess Club. I joined when I was 7 and I made my username penguingm1 because I liked penguins and wanted to become a grand master, very simple thinking for a 7 year old. I played for years, and people started to know who I was, so I said "let me keep it, I still like penguins and still want to become a GM." Eventually I did become a GM when I was 17.
SIG is proud to sponsor Chess.com. Andrew recently blogged about "Coming Back to OTB Chess and the 2021 World Cup" on chess.com.

You can check it out here

.
(Visited 10,702 times, 1 visits today)